EuroCC-2 participated in organizing the first "Innovation Workshop and Speed Networking Event" at The Cyprus Institute (CyI) 9 June 2023, in collaboration with the Association of Research and Innovation Companies of Cyprus (CARIE), and the Cyprus Chamber of Commerce and Industry (CCCI). The event was also supported by the EU funded project "EMME-CARE", and the European Digital Innovation Hub in Cyprus – "DiGiNN" project.
The main aim of the workshop was to initiate and establish collaborations between CyI and Cypriot companies with a strong focus on applied research and innovation. The ultimate goal was for these new collaborations to result in the development of products and services that can have a substantial socioeconomic impact in the island, and to significantly enhance the competitiveness of the ecosystem of high-tech companies in Cyprus.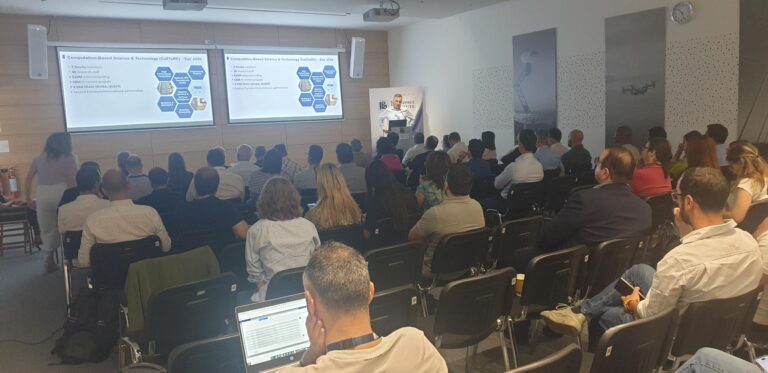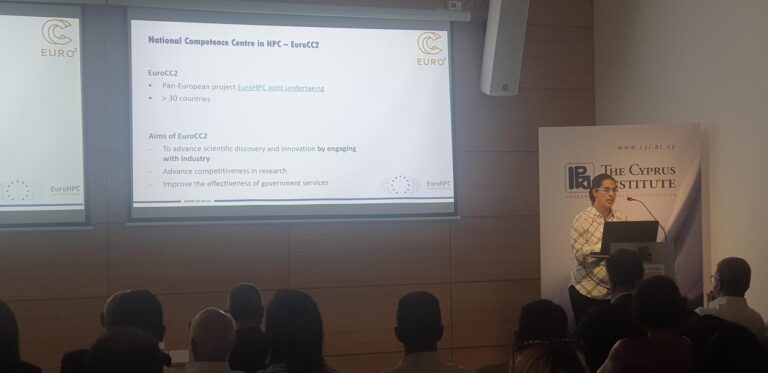 The agenda of the workshop included brief introductions of the five centres of CyI, a presentation of the graduate school programme, and an overview of how the Innovation and Entrepreneurship Directorate of CyI works towards "bridging" the gap between research and industry in Cyprus. EuroCC-2 had a strong presence at the event, with Dr. Panayiota Katsamba (EuroCC-2 industry scout) giving a presentation on the different ways through which EuroCC-2 can support Cypriot companies (consultation, proof of concept projects, tailored training, etc.).
Importantly, several EuroCC-2 members (Dr. Andreas Athenodorou, Dr. Pantelis Georgiades, Dr. Myrianthi Hadjicharalambous, Dr. Charalambos Chrysostomou, Dr. Mihalis Nicolaou, Prof. Constantine Dovrolis) participated in a speed-networking event. During brief sessions, EuroCC-2 members had the opportunity to discuss with representatives from individual companies, understand their needs and offer preliminary ideas on how EuroCC-2 can provide company-specific support. This event was very successful, leading to several new contacts with the industry, which will form the basis for impactful collaborations between EuroCC-2 and industry in Cyprus.
Companies which attended the event were CARIE member companies such as ADDITESS (Advanced Integrated Technology Solutions & Services Ltd), Advanced Materials Design and Manufacturing Ltd, AI Zerocaliber Ltd, CELLOC LTD, CYRIC Cyprus Research And Innovation Center Ltd, Ecliptic Defense and Space, EFEVRE TECH LTD, Elysee Irrigation Ltd, EMBIO Diagnostics, Lumoscribe, NOVATEX SOLUTIONS LTD, SignalGeneriX, Malloc Limited, eBOS Technologies Ltd, along with Cyprus Seeds.

Prof. Stavros Malas, President of The Cyprus Institute, Dr Tasos Kounoudes, President of CARIE, and Mr. Marios Tsiakkis, Secretary General of CCCI addressed the event, which took place under the auspices of the Deputy Minister of Research, Innovation and Digital Policy, Mr. Filippos Hadjizacharia.