The EuroCC Competence Center activity brings together the necessary expertise to set up a network of NCCs in HPC across Europe to provide a broad service portfolio tailored to the respective national needs of industry, academia and public administration promoting innovation and competitiveness.
As part of its NCC responsibilities, the NCC seeks to help companies in technology transfer and business development activities. CaSToRC aims to achieve this through collaborative industrial/governmental projects where NCC personnel can work together with company employees, train them in new technologies, which they can then implement in their company's work process for its development and to make them more efficient and competitive.
The NCC brought together industry and government with this collaboration between two private companies – Axia Surveyors and Real Geosolutions- and the Department of Lands and Surveys (DLS).
In this collaboration we develop large-scale Machine Learning algorithms for automated, mass real-estate appraisals in Cyprus. This will help bring more transparency to the market as valuations will be readily available to the general public, professional valuers and financial and banking institutions for control purposes.
AXIA CHARTERED SURVEYORS™ is a company registered under the name T.Dimopoulos & Associates Property Valuers L.L.C. The company operates throughout Cyprus and has offices in both Nicosia and Larnaca. ΑΧΙΑ specialises in property valuations and provides a wide range of other professional property related services such as: development appraisals, property management, planning & development advice, market research and investment consultancy.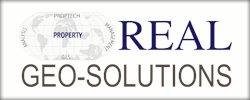 Real-Geosolutions Ltd is the first real estate software firm in Cyprus who designed and developed a unique holistic Real Estate software with full Geographical Information Systems (GIS) Integration. The software covers Asset and Client Database Management, Land Cadastral Integration, GIS Integration, Valuation Analysis (complete analysis of comparable transactions with incorporation of Adjustment Matrix), Analysis Report Export and Statistical Analysis Export.
Department of Lands and Surveys (DLS) is solely responsible for the provision of services in connection with all the rights relating to immovable property – registration, valuation, general assessment (for tax purposes), tenure, surveying, cartography, geodesy and hydrography, as well as the management of all property belonging to Cyprus. It is also the main source of data relating to real property.